Residential Glass
I designed this Stained Glass Pivot Door Panel based on my Client's painting by Dutch painter Piet Mondrian. The glass panel is 56″ x 82 3/8″ in a 57″ x 83 3/8″ Insulated Glass Unit installed in the pivot door. The panel consists of 700 pieces of glass & includes 20 different shades of color. It took 3 months to create with the help of Stacie Coppens, my apprentice & dear friend! I couldn't have done it with without her! My husband built a platform for it as it was too big for my work tables. I am so grateful to them both! A big shout out to Family movers express for transporting it safely, Total Image Glass & Mirror for insulating it perfectly & All Glass Aluminum for installing it with precision! It was quite the journey. My Client has been smiling every since the stained glass panel was installed in the Pivot door just in time for the 2021 Christmas Holiday!
Red Rock Canyon National Conservation Area has been an important part of my life as long as I can remember. It is my Sanctuary. I have been cycling, running, hiking, climbing and mediating at Red Rock Canyon all my adult life. My most creative ideas come to me when I am experiencing the magnificence, beauty and spirituality of Red Rock Canyon and Calico Basin. I have been creating commissioned glass art for many years, but recently there has been is a strong spiritual urge within me as an artist to do a "statement" piece for the cause that is the most deeply meaningful to me: Keeping the Red Rock Canyon National Conservation Area protected and preserved infinitely. I have completed my mission to capture beauty of Red Rock Canyon in stained glass and display it for public view with the purpose of preserving the rural character of Red Rock Canyon. This 32 ½ x 63 ¾ original stained glass panel of "Rainbow Ridge"; Mt. Wilson, Mt. Rainbow, and Mt. Bridge, titled "Save Red Rock" has been my passion to design and create for over a year in the making and 364 hours of time. It includes over 1100 pieces of glass & 30 shades of color encased in a custom Cocobolo wood frame. With Save Red Rock's assistance, I put my piece of "Save Red Rock" up for bid and donated 50% of the proceeds to Save Red Rock's" Keep Red Rock Rural "campaign to help prevent the development of the land across from Red Rock National Conservation Area and surrounding areas.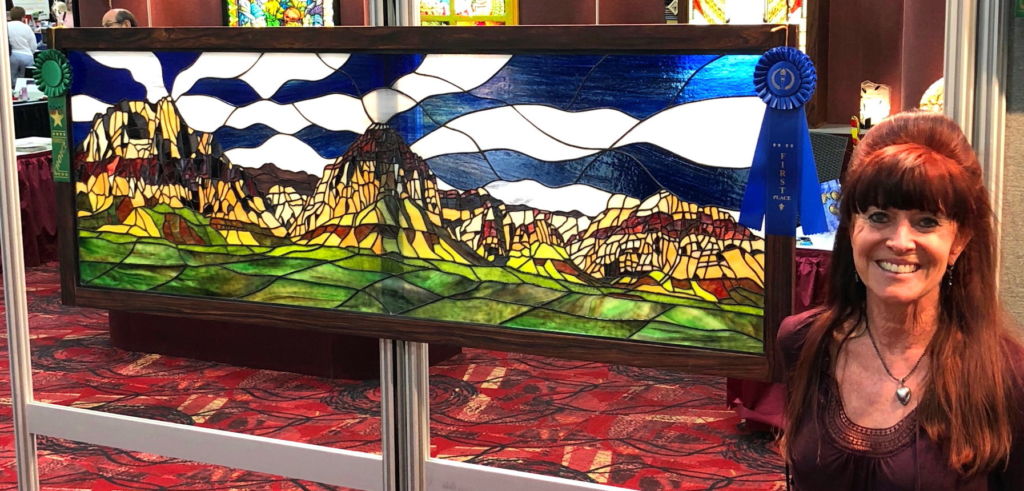 My "Save Red Rock" stained glass panel received First Place from the judges and People's Choice awards in the Professional Stained Glass Category in the Gallery of Excellence at the 2018 Glass Expo! So thrilled to receive both awards! I was chosen to be an 2018 Artist- in-Residence at the Red Rock Canyon Visitor Center and a life-size photograph on metal of "Save Red Rock" was exhibited as a part of this program from June 30 – July 31, 2018 for public viewing.My "Save Red Rock" stained glass panel image was chosen for the artwork on the 2020 Red Rock Canyon National Conservation Area Annual Pass released on March 1, 2020.Such an immense honor!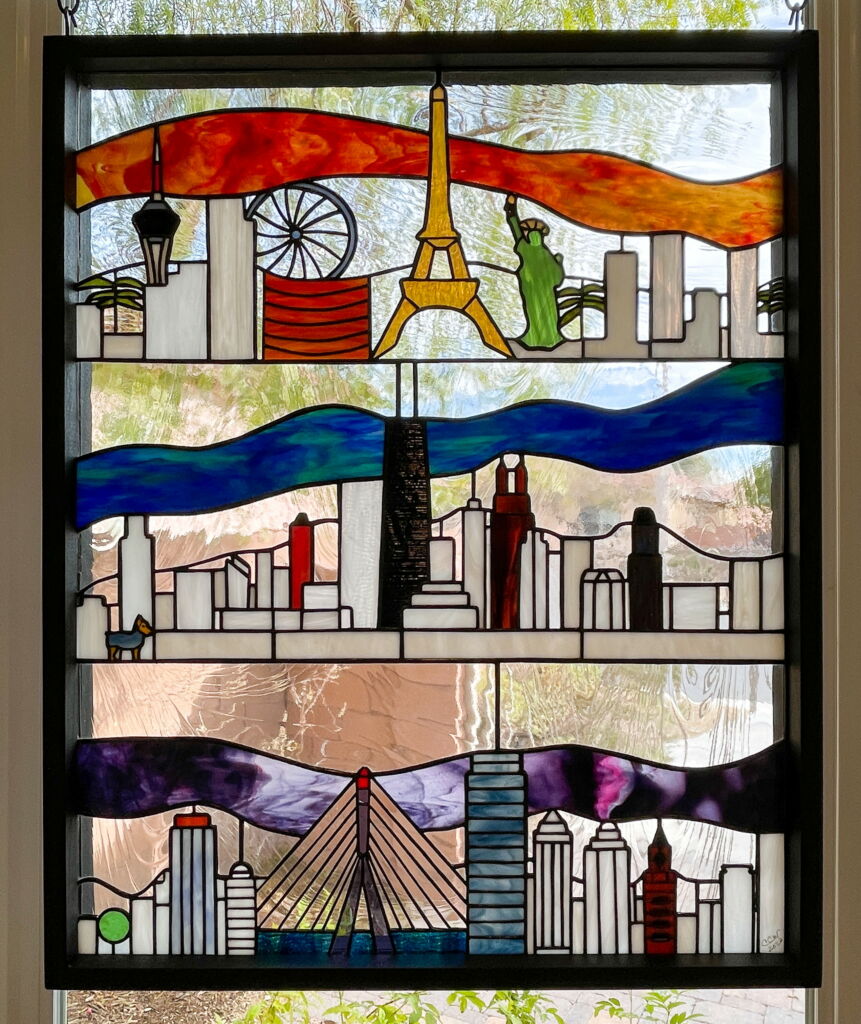 This commissioned 25" x 31" stained glass panel titled " Three Cities" was a wedding gift from my client for her son & now daughter-in-law. He's from Las Vegas, she's from Boston, and they met in Chicago where they adopted their adorable dog, Archer. It brought my client to tears when she saw it for the first time. I was touched by her profound emotion & thrilled to be able to have exceeded her expectations for this one-of-a-kind wedding gift! Now that the newlyweds live in Denver, Colorado, I was relieved to know that she successfully transported "Three Cities" safe & sound by car & they both love it!!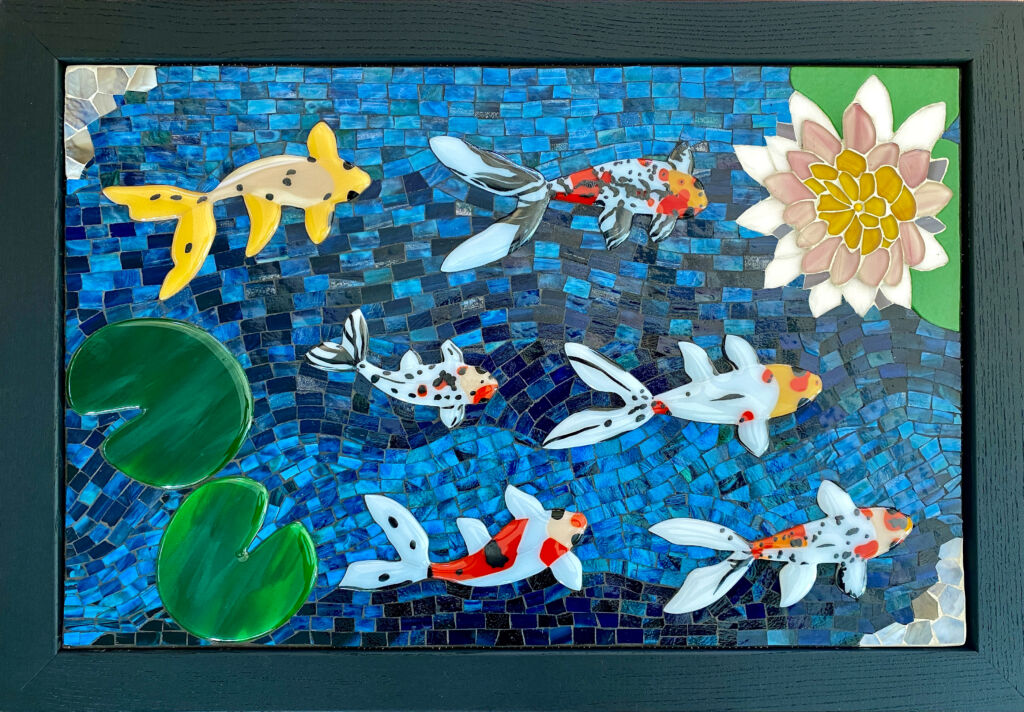 Stonewall Creek of Las Vegas designed & built our beautiful custom pond & waterfall. We carefully chose the 6 Japanese Goldfish for our pond. I loved them so much that I wanted to capture them in glass. I created this Mosaic & Fused glass piece of my "Special Six"; Freckles, Speckles, Double Dot, Mini Spot, Dottie & Princess to emulate each ones unique markings & personality!
I designed and created this 21″ x 25″ stained & fused glass panel from the original photograph I took of a Cholla Cactus Bloom in the Red Rock Canyon Conservation Area. I loved the composition so much that I wanted to create it in glass. It consists of 575 pieces of stained and/or fused glass. "Desert Bloom" received First Place and the People's Choice Award in the Gallery of Excellence at the 2009 International Glass Expo held in Las Vegas Nevada, April 1st-5th.
A client who I created a custom hanging stained glass panel of "Sloan Mountain" for 8 years ago (above), contacted me to create two original stained glass panel inserts for his cabinets when he decided to remodel his kitchen. He loves "Road Runners", so I designed a contemporary design that would compliment the Native American theme & colors of his kitchen decor. He was absolutely thrilled with them!! It was fun to be able to create these "Road Runner"stained glass panel inserts for his kitchen cabinets and have them compliment the original stained glass panel of "Sloan Mountain" that I created years ago!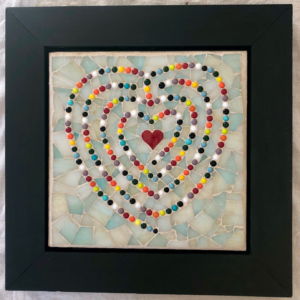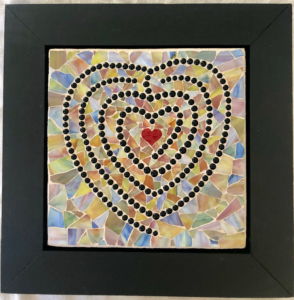 The spiraling path of the labyrinth teaches us to slow down and refocus as we become more centered and balanced. I designed & created these "Mosaic Heart Shaped Finger Labyrinths" to help ease stress and assist in relaxation. Each can be hung on a wall or on a stand. They are 8" x 8" mosaic panels in a 12" x 12" x 1" custom wood frame. When you are stressed and need to relax, use your finger to slowly trace the path into the heart at the center and then back out to the entrance. From experience, I know you will feel more peaceful & relaxed when you do!
These 12″ x 12″ Contemporary Wall Mount Stained Glass Panels are pieces that I created which are displayed on various Clients' walls as they are completely light independent and therefore, can be hung anywhere without regard to back lighting. I can create an unusual piece such as these to accent your home or office as well!